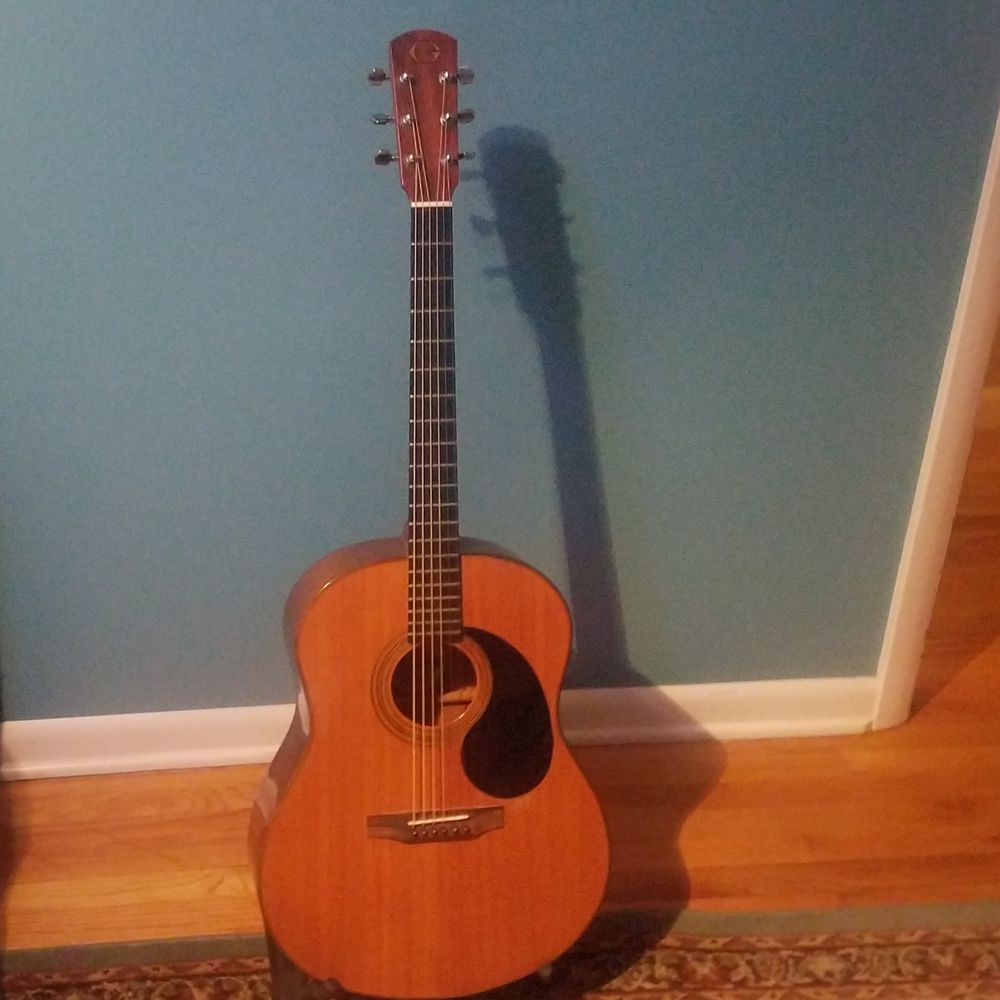 Gurian Guitars
history
The Gurian Guitar company was founded in around 1965 by luthier Michael Gurian who built first classical then steel string instruments with a number of unique design features including a more rounded body shape than those of other manufacturers, a long scale length, narrow "electric"-style neck (in later years a few instruments were built with a wider fingerboard), and an unusual fan-derived bracing system for the top of the guitar. The earliest guitars were built in various small workshops in New York City, followed by a move to larger premises in Hinsdale, New Hampshire in 1973 where the majority of guitars were built. The company suffered a disastrous fire in its Hinsdale factory in 1979 which resulted in the loss of most of the instrument stock and associated tools, but rebuilt in a new location in West Swanzey, New Hampshire until 1981-2 when it was forced to close due to prevailing economic conditions. Following the cessation of his instrument making operation, Michael Gurian returned to the supply of quality wood supplies and components for other makers, the area in which he originally started.
 
Gurians were favored at one time by several well-known acoustic players including songwriters Paul Simon and Jackson Browne, also fingerstyle guitar players like Pierre Bensusan, John Renbourn and Ralf Illenberger used Gurian instruments at various times.
Today, with the rise of a large number of alternative/more recent "boutique" brands, they are less frequently seen on stage. They had/have a reputation for good clarity and a distinctive sound, especially for fingerstyle playing. Gurian guitars are comparatively rare - production totals from the "Gurian Guitars Identification & Registry" indicate that only around 5,000 reached the market (5,283 less approximately 231 lost in the fire) - and those that were sold have something of a niche following in the present used guitar market, albeit without the high prices of some of today's top "boutique" brands.
Gurian guitars have a reputation for being challenging with regards to neck resets. The pinned neck joint was designed to be less laborious to construct compared to a traditional dovetail joint, and ironically, thought to be easier to reset. Unfortunately the joint creates several challenges for a repair person; from the specific knowledge of how the joint was put together, the offset as well as a specialised tool.
Vintage Gurian J-M Acoustic Guitar. The guitar is in very good+ condition. There are some minor dings and scratches, and one small crack on the back that doesn't go all the way through. The pick-guard has shrunk over time and has a bit of a wrinkle to it.The action is perfect, and the neck was just reset two days ago by well-respected luthier Paul Neri. It's a great playing guitar. 
Guitar specs: 
Serial number: C1593 
Upper bout 12″ Lower bout 15 1/2″ Depth at tail block 4 3/4″ Depth at Neck Block 4 1/4″ Top: Sitka Spruce Back and Sides: Mahogany 
Headstock: Brazilian Rosewood Overlay Bridge: Brazilian Rosewood Fretboard: 14/20 Ebony (white dot side position markers) Tuning: Machines Chrome Schaller 
Nut: Ivory Saddle: Bone Binding: Rosewood Purfling: Herringbone Long Scale: 25.75″ Nut/Saddle: width 1 7/8″, 3″