House Concerts
A House Concert is exactly that, a concert in your home with people you want to be around, in a setting that is intimate and exactly the way you want it to be. Although most House Concerts are in people's homes, we know folks that use other venues for the same purpose: a local church, community center, community club-houses, etc.  As one house concert host put it, "What could be better than talented artists performing for you and your friends in the comfort of your home?" "Good music and successful parties: these are two things that I've come to realize make me blissfully happy to be alive. Combining the two is something wonderful!"
Have you ever hosted a party or pot-luck? Easy to do! With shared resources, House Concerts can be virtually cost-free to the host and a much welcomed performance arena for the artist.
From an artist's perspective, "Some of today's most inspiring artists often perform in half-empty rooms of distracted customers, while competing with televisions and the noise of constant conversation. They then go home with a tiny percentage of bar sales. That's a shallow way to measure the value of music, don't you think?" House concerts are a mutually beneficial way to experience music. Listeners have the advantage of an up-close & personal experience with the performer, and the performer has a respectful and enthusiastic listening audience for much less than the price of a typical concert ticket.
Book Cary for a House Concert!  Go to our "Contacts" page and send us an email today!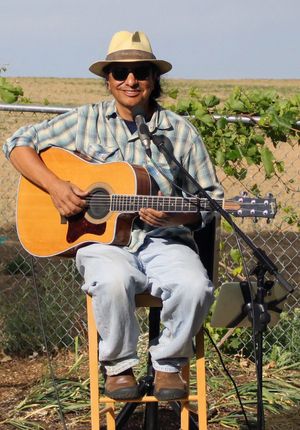 Here are some things to think about (that I have taken from several on-line sources):
1. Pick a musician you are enthusiastic about – If you love the music, you will inspire other people to love it, as well, and you will feel more motivated to invite your friends and family.
2. Pick a date that works well for all involved – Musicians have found that house concerts can be good ways to fill in dates between club shows when on tour. Check out their tour schedule on their website and don't be bashful to send them an e-mail. Also consider holidays, birthdays, and other major events that might interfere with attendance.
3. Money – Most musicians know how much to charge. If you can cover the cost, then great! If not, consider a suggested donation ($10-$15 is typical), put out a tip jar, or ask the folks with the means to consider financially supporting the event.
4. Check in with the musician(s) – Closer to the date of the show, ask them if there's anything specific they need, like access to an electrical plug, a special chair/stool, etc. They'll appreciate the communication, even if there's nothing they need. This will also get everyone on the same page and make your event run more smoothly.
5. Location – It may seem obvious, but make sure you have an idea of where you want the musician to perform. Inside, outside, in the living room corner, etc. Share these ideas with the band, especially if they need a certain amount of room to set up.
6. Connect with neighbors and roommates, and anyone else who might be affected by the noise – They might have requests for starting and ending times for noise concerns. Make sure to respect their requests; inviting them is always a nice gesture! This should be fun for everyone!
7. Chairs – Will you need them? Ask attendees to bring a chair or two with them.
8. Food and drink – B.Y.O.B? Will you provide? Or both?
9. Merch – Does the musician want to sell merchandise at your event? Are you cool with that? Is there a place where it can be displayed?
10. Timing – There are several ways to format the event. Work with the musician to figure out what will work best. Most concerts are two sets of 45minutes to an hour a set, with time for socializing and food. Consider telling people that the music will start a little bit earlier than it actually will (maybe 15-30 minutes). You want the most people in the room when the music is happening, and people will always show up late. But make sure to respect everyone's time and not go too late.
Additional sites:
http://www.thedoubleclicks.com/so-you-want-to-host-a-house-concert/
http://www.dannyschmidt.com/houseconcerts.html
http://drewpearce.com/portfolio/houseconcerts.html